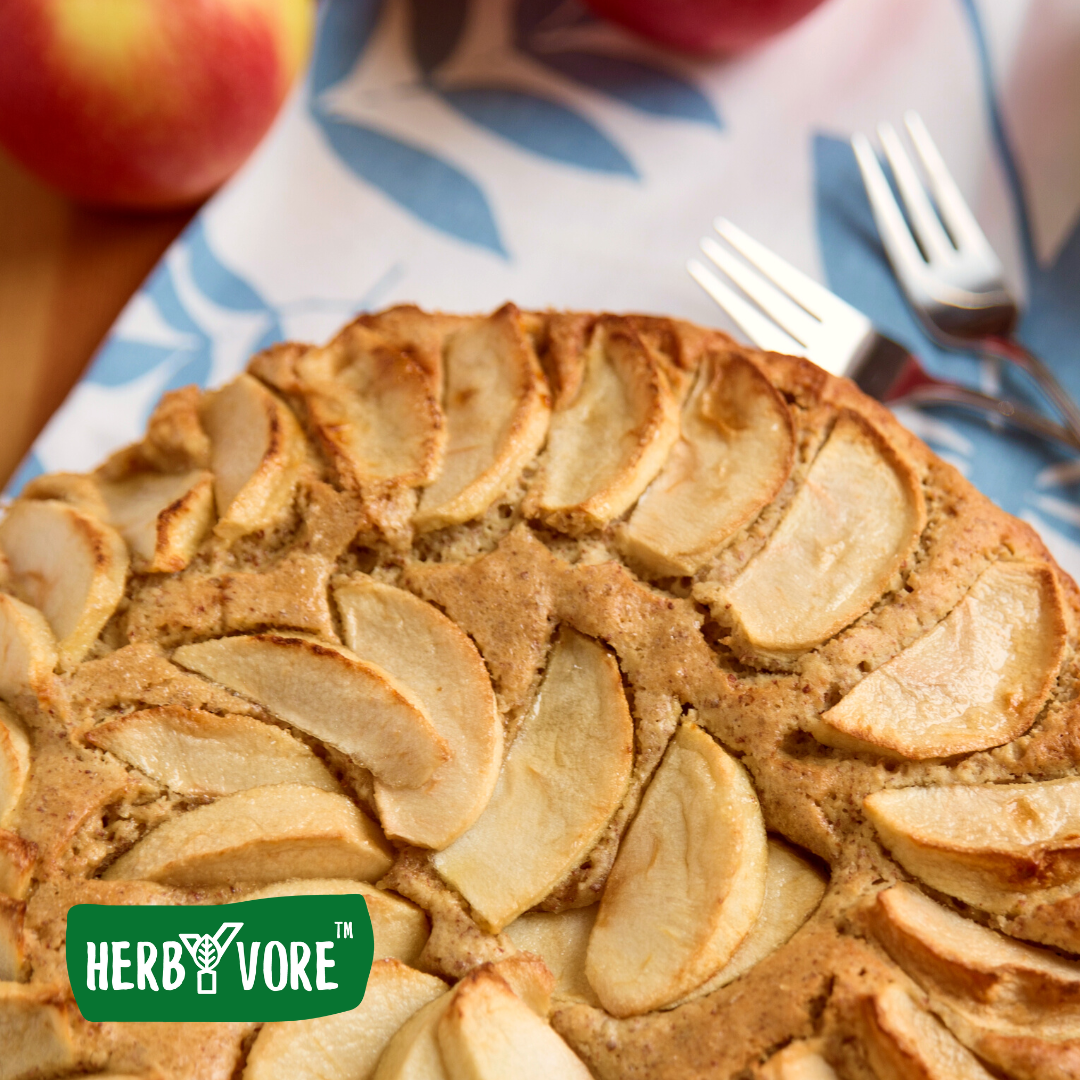 If you are a fan of apple pie, you have to check out this recipe of our Vegan Apple Cake. Our vegan apple cake recipe is made healthier with HerbYvore Plant Protein, so you can get more protein in every bite. 
INGREDIENTS
2 cups plain flour
3 tsp cinnamon
1 tbsp baking powder
1 pack 𝗛𝗲𝗿𝗯𝗬𝘃𝗼𝗿𝗲

™️

𝗣𝗹𝗮𝗻𝘁 𝗣𝗿𝗼𝘁𝗲𝗶𝗻 𝗕𝗹𝗼𝗰𝗸, crumbled
1 ¼ cup oats milk or any plant-based milk except coconut milk
1/2 cup vegetable oil
1tsp vanilla essence
1 cup brown sugar
2 tbsp cocoa sugar mixed with 1tbsp cinnamon powder
2 apples skinned and chopped into small chunks, or blended to form a paste
2 apples skinned and cut into slices
METHOD
Line a 8 to 9 inch springform pan with parchment paper. Preheat oven to 360F or 180C.
In a bowl sift in the flour, cinnamon, and baking powder. Give it a mix till well combined.
Add in the crumbled HerbYvore Plant Protein Block and mix it well, it should resemble like fine breadcrumbs. Leave that aside.
In another bowl whisk the plant milk, oil, sugar, and vanilla essence till well combined
Add the dry ingredients to the wet ingredients and mix well. Making sure that the ingredients are well combined and yet not overmixed. Overmixing may make the cake gummy and unpleasantly chewy. There is a tendency for the cake to collapse.
Gently fold in the apple chunks/paste. 
Pour the batter into the cake pan and arrange the apple slices on the batter in a circular overlapping pattern neatly.
Sprinkle the top of the apple with the sugar and cinnamon mix.
Bake at 360F or 180C for about 1 hour in the centre rack.
Do not open the oven at least 40 mins before the end time as the cake might deflate.
Check the doneness of the cake by inserting a toothpick in the centre of the cake and it should come out clean.
Allow the cake to cool for a minimum of 1 hour before serving.