Try these crispy and cheesy Arancini made with 𝗛𝗲𝗿𝗯𝗬-𝗖𝗵𝗲𝗲𝘀𝗲 Mozzarella and 𝗛𝗲𝗿𝗯𝗬-𝗖𝗵𝗲𝗲𝘀𝗲 Just Like Parme! This classic Italian recipe transforms risotto rice into golden and crunchy bites filled with cheese and herbs. Arancini are perfect as a snack, appetiser, or even a main course. You can also make them ahead of time and freeze them for later. INGREDIENTS 2 tsp olive oil 15g unsalted vegan butter 1pc chopped onion 1pc chopped garlic 350g risotto rice 150ml white wine 1.2L vegetable stock 150g grated 𝗛𝗲𝗿𝗯𝗬-𝗖𝗵𝗲𝗲𝘀𝗲 Just Like Parme 1 lemon zest 180g cubed 𝗛𝗲𝗿𝗯𝗬-𝗖𝗵𝗲𝗲𝘀𝗲 Mozzarella 40g coriander chopped 3g black pepper crushed METHOD Heat up non stick pan...
---
A vegan frittata is perfect for breakfast, dinner or really any time of the day. It's also a perfect way to use leftover vegetables and the addition of HerbY-Cheese Cheddar in this recipe adds a yummy cheesy flavour to delight the palate. The recipe also features 𝗛𝗲𝗿𝗯𝗬𝘃𝗼𝗿𝗲™️ 𝗣𝗹𝗮𝗻𝘁 𝗣𝗿𝗼𝘁𝗲𝗶𝗻 𝗕𝗹𝗼𝗰𝗸 as to provide a protein boost to this dish.  Recipe by Shalu Asnani of Little Green Kitchen. INGREDIENTS Olive oil for sautéing 1 onion, finely chopped 2 potatoes, diced into ½ cm cubes 1 capsicum, diced into 1cm cubes 2 cloves garlic, minced ½ tsp salt ½ tsp oregano ½ tsp paprika 2...
---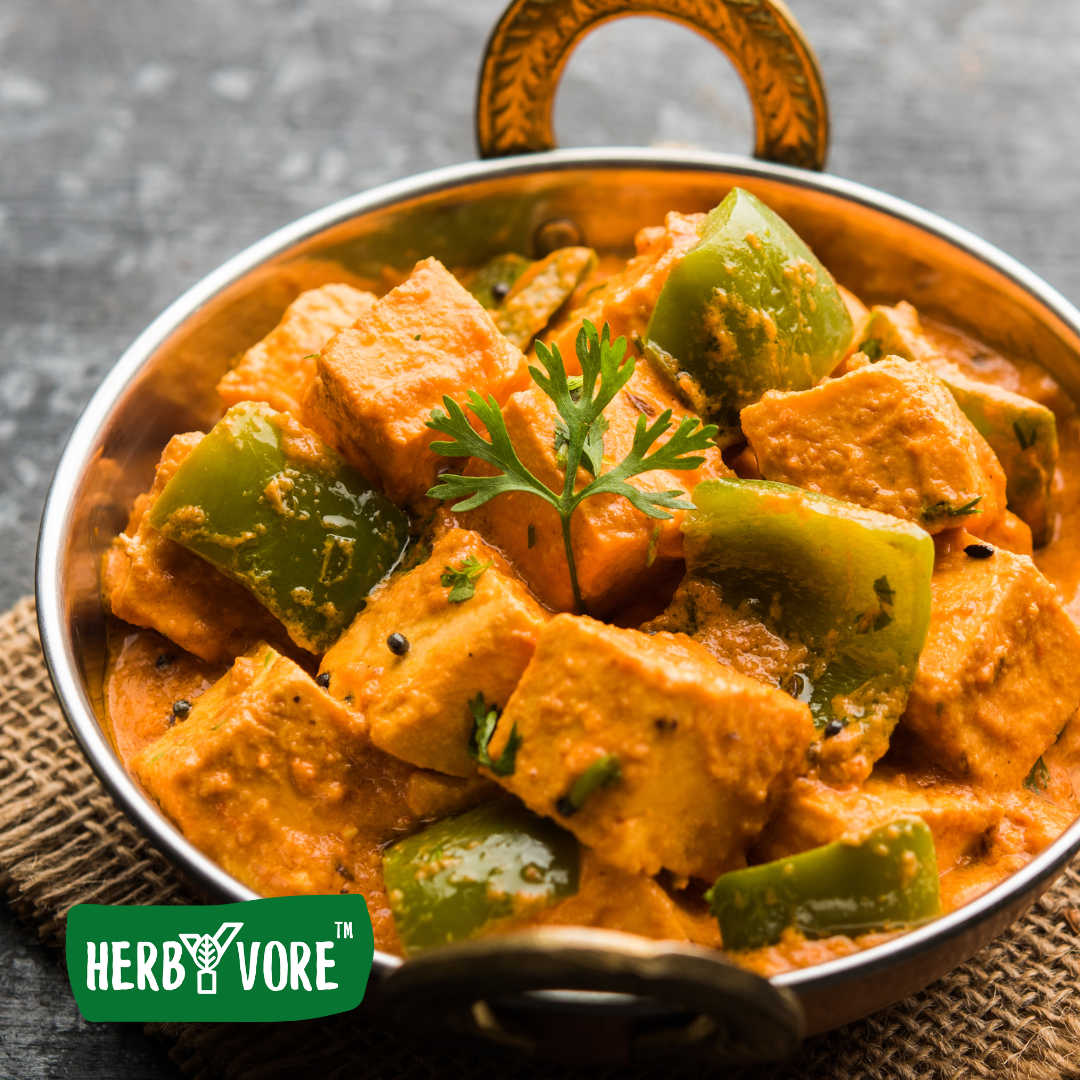 In this recipe, we used 𝗛𝗲𝗿𝗯𝗬𝘃𝗼𝗿𝗲™️ 𝗣𝗹𝗮𝗻𝘁 𝗣𝗿𝗼𝘁𝗲𝗶𝗻 𝗕𝗹𝗼𝗰𝗸 in place of paneer for a vegan-friendly paneer curry! This curry is thick and creamy with a kick of spice that flavours the protein block perfectly.  INGREDIENTS Hot water – 2 cups Salt – 1 tsp Turmeric – 1 tsp 1 block of 𝗛𝗲𝗿𝗯𝗬𝘃𝗼𝗿𝗲™️ 𝗣𝗹𝗮𝗻𝘁 𝗣𝗿𝗼𝘁𝗲𝗶𝗻 𝗕𝗹𝗼𝗰𝗸  250g, cut into 2cm cubes. Tip: Soak protein block in turmeric salted water to soften for at least 15 minutes.  Marinade: Finely ground cashew paste – 3 tbsp Turmeric powder – 1/2 tsp Coriander powder – 1/2 tsp Cumin powder – 1/2 tsp Garam masala powder...