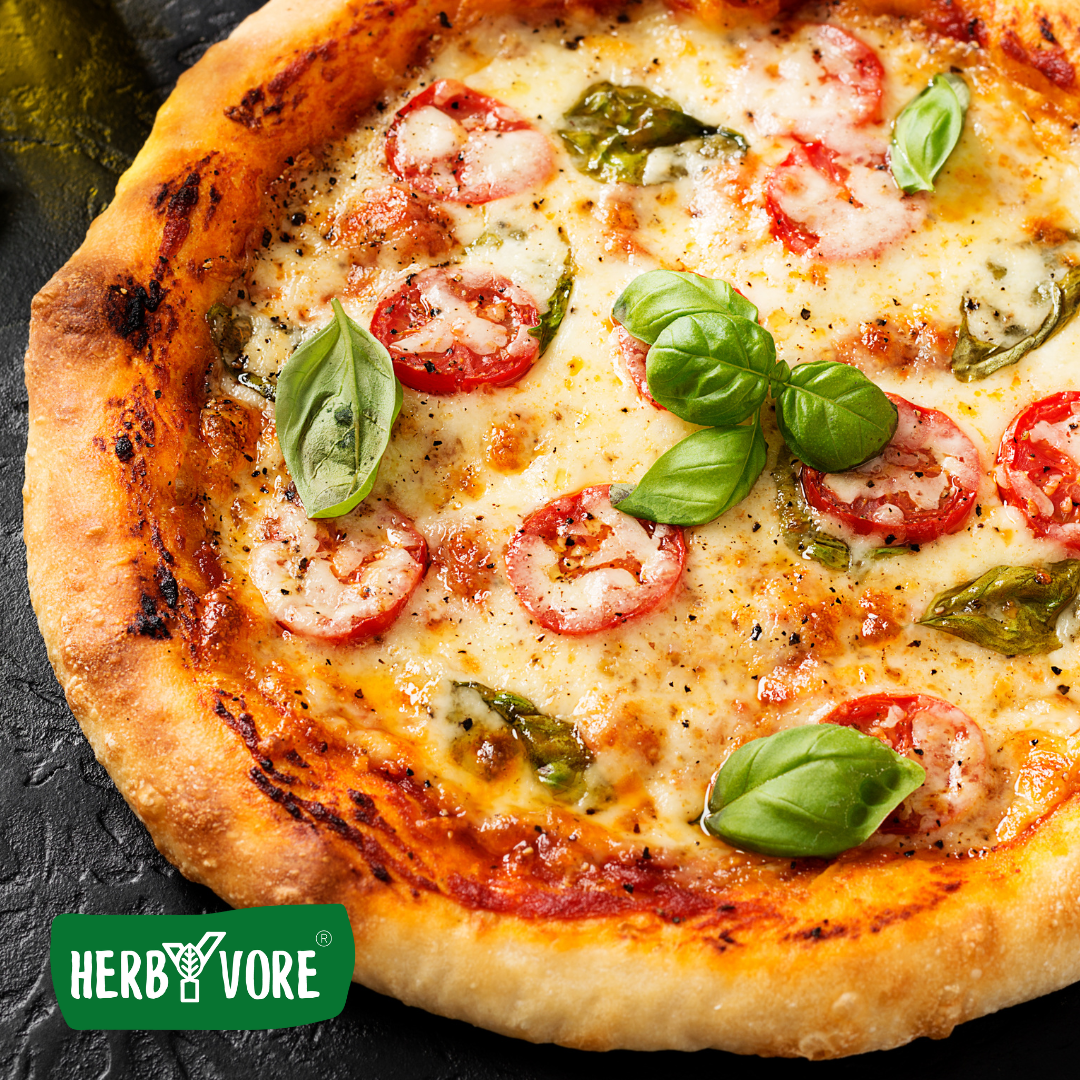 Here's our dairy-free rendition of Pizza Margherita using 𝗛𝗲𝗿𝗯𝗬-𝗖𝗵𝗲𝗲𝘀𝗲 Mozzarella and 𝗛𝗲𝗿𝗯𝗬-𝗖𝗵𝗲𝗲𝘀𝗲 Just Like Parme! This recipe features a simple handmade pizza dough with a plant-based twist. Whether you're a vegan, lactose intolerant, or simply seeking a healthier pizza option, this recipe promises a satisfying, cheesy experience without the dairy. 
INGREDIENTS
Pizza Dough:
2¼ tsp Instant Yeast
¾ cup Warm Water
1½ tsp Sugar
2 cups Bread Flour
¾ tsp Salt
⅓ tsp Garlic Powder
2 tbsp Olive Oil
Tomato Sauce:
125 g Tomato Paste
⅓ tsp Garlic Powder
¼ tsp Salt
¼ tsp Sugar
Few cracks of Black Pepper
1 tbsp Extra Virgin Olive Oil
Toppings:
¾ cup HerbY-Cheese Mozzarella (coarsely grated)
¼ cup HerbY-Cheese Just Like Parme (finely grated)
6 - 8 halved Cherry Tomatoes
3 - 5 leaves of Fresh Italian Basil (chopped)
METHOD
Mix yeast with warm water and sugar and set aside for 10 minutes till frothy.
Measure rest of dry ingredients for pizza dough in a large bowl.
Mix ingredients for the tomato sauce together and set aside.
Add yeast mixture, olive oil to dry ingredients and knead by hand or dough hook till dough is smooth.
Leave dough (covered) to rest for at least 45 minutes.
Pre-heat oven to 240ºC.
Stretch dough to form a large circular shape with thicker sides.
Spread sauce generously on the dough, avoiding the edges. Send dough into oven to bake till the dough is partially cooked (about 6 minutes)
Remove from oven, scatter

HerbY-Cheese Mozzarella

over the sauce, top with tomatoes, followed by half of

HerbY-Cheese Just Like Parme

.

Slide pan back into oven and bake until dough is golden brown and cheese is melted, about three to five minutes more. Remove pizza and top with remaining cheese and chopped fresh basil.